Treating acne at any age can be tricky. It is important to take a thoughtful approach and understand how the products you choose work.
Acne poses many challenges for our skin: excess oil, clogged pores, redness and of course white heads and pimples.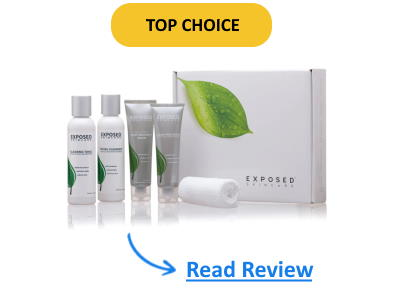 Here's what you should consider when looking for the best acne treatment:
Surprisingly, no drugstore brand made our list but we took a deep dive into many of the better quality lines including the big TV brand, Proactiv…
Here are the acne systems we think are worth considering:
---


Scientific Actives
& Skin Repairing
Ingredients

Benzoyl Peroxide
Kills Acne Bacteria

Salicylic Acid
Unclogs Pores

Natural Dicarboxylic Acid
Normalizes Skin
Natural Extracts
Proven to Heal
Skin

Green Tea
Kills Acne Bacteria

Passion Flower
Reduces Inflammation

Aloe Vera
Soothes Irritated Skin

Sage Extract
Fights Free Radicals

Gotu Kola
Improves Skin Healing

Guarantee and Price
(60-day supply)

Google Shopping Rating
(Updated 9/10/2019)
Acne Kit Descriptions with Plus and Minus
BEST Overall Acne Treatment
Our Top Recommendation – If you have sensitive skin, this kit is definitely a good option for you. This product has all the key ingredients and more, utilizing both scientific and natural actives to effectively treat and prevent all kinds of acne, from blackheads to pimples. It contains benzoyl peroxide to help treat pimples, salicylic acid, and glycolic acid to treat blackheads and whiteheads, and it contains green tea, aloe vera, and passionflower extract to reduce inflammation and redness.
High-quality ingredients with an ideal combination of active ingredients, this kit has the highest customer ratings on both Amazon and Google Shopping, & comes with a full one-year money-back guarantee.
Although it is still generally very affordable, this kit is slightly more expensive than some of the other kits in this list.
Mild Acne Treatment – (Runner Up)
This kit is designed to treat and prevent very mild acne and works best with normal to oily skin. It contains salicylic acid, which helps open pores and fights blackheads and whiteheads, and sulfur, which helps dry out excess oil. It also contains a few natural ingredients, like passionflower and sage extract, which can both help reduce inflammation.
This acne treatment kit is the most affordable option in this list, making it a great place to start if you are hesitant to invest too much money into your skincare right away.
The products in the Murad kit do not contain ingredients that effectively prevent or treat pimples (pustule or papules), though it is a good solution for treating white/blackheads.
3-Step System
Proactiv is probably the most popular acne treatment kit on the market, but does it work and is it the best? If you have very oily skin that is non-sensitive, then it could be. It contains benzoyl peroxide to help reduce pimples and some natural actives, like aloe vera extract to reduce inflammation. Together, these ingredients can potentially improve your acne.
With benzoyl peroxide in two of its three products, this kit could be a good choice for people with resistant,
non-sensitive skin who have an especially hard time with pimples, however, it lacks Salicylic Acid.
The Proactiv kit contains fragrances and dyes that can easily irritate sensitive skin and cause increased inflammation, and as a result, increased acne. Many complaints about Proactiv can be found online.
Overall Acne Treatment (Runner Up)
This kit is a good option for those who have both oily and sensitive skin. The benzoyl peroxide effectively treats pimples, while the sulfur helps dry out excess oil that can contribute to blackheads and whiteheads. It also includes sage and green tea extract, to help prevent sensitive skin from having an inflammatory reaction to the benzoyl peroxide or sulfur.
This kit is the best one in this list for skin that is both oily and sensitive.
Unfortunately, this particular kit is far more expensive than the other options by nearly $150.
Recent Blog Posts
Home remedies for acne are very popular in the world of skincare right now, but are they really the best way to get clear skin? You may be better off using an over-the-counter acne system, like Exposed Skin Care, Murad, or Proactiv. Below, we've identified 4 solid reasons you may want to choose an acne system over some of the classic home…
If you're sick of your acne, it might be tempting to go straight to the dermatologist to get strong acne medication, but did you know you may actually be better off sticking with an over-the-counter acne treatment system? It's true, there are many benefits to using an acne system, such as lower cost, reduced chance of side effects, and so much more….